NATURE COAST
In the Nature Coast, the Water Watch program is a partnership with Florida LAKEWATCH. In Florida, LAKEWATCH volunteers have been tracking water quality in freshwater systems since 1986. However, a comparable citizen science program for our coastal areas did not exist until recently. Now, Water Watch volunteers in the Nature Coast are working to fill data gaps to help managers monitor coastal health along this rural stretch of coastline.
Nature Coast Water Watch volunteers collect data on total nitrogen, total phosphorus, chlorophyll-a, and secchi depth because these parameters tell managers and researchers a lot about ecosystem health. Monthly samples are collected using LAKEWATCH protocols and analyzed at the LAKEWATCH lab in Gainesville. Over time, the data our volunteers collect will tell water resource managers important information about seasonal and multi-year changes in the estuaries.
Volunteers have been sampling the waters off Cedar Key and St. Marks since January 2017. New sites will start up in Horseshoe Beach in 2019. If you or your organization is interested in getting involved, contact me at savanna.barry@ufl.edu or 352-325-6080 to find out how!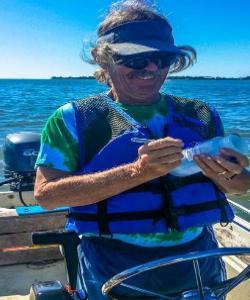 Nature Coast Water Watch volunteer Joe Hand labeling a sample bottle.
(Photo: Lisa Custer)